google-site-verification: googlee29ffadc747dbc13.html
---
Full Specs

Modell/Model

BH G7 Disc , Modell 2018

Rahmen/Frame

BH G7 Disc Full Carbon

Gabel/Fork

BH G7 Pro Full Carbon 1,5

Dämpfer/Rear Shock

-

Federweg hinten/Travel rear

-

Steuersatz

/Headset

BH

Vorbau/Stem

Ritchey WCS 220

Lenker/Bar

Ritchey WCS Evo Curve

Vorderradbremse/Brake f.

Shimano RS 805 Flatmount/RT 800 160mm

Hinterradbremse/Brake r.

Shimano RS 805 Flatmount/RT 800 140mm

Bremshebel/Brake lever

Shimano Ultegra R8070 Di2 Disc

Umwerfer/Front derailleur

Shimano Ultegra R8050 Di2

Schaltwerk/Rear derailleur

Shimano Ultegra R8050 Di2

Schalthebel/Shifter

Shimano Ultegra R8070 Disc Di2

Kassette/Cassette

Shimano Ultegra R8000(11-28)

Kette/Chain

Shimano HG 701

Kurbel/Crankset

Shimano Ultegra R8000

Innenlager/BB

FSA Converter

Pedale/Pedals

-

Vorderrad/Front wheel

Mavic Cosmic Pro Carbon Disc

Hinterrad/Rear wheel

Mavic Cosmic Pro Carbon Disc

Reifen vorne/Front tyre

Mavic Yksion Pro Griplink

Reifen hinten/Rear Tyre

Mavic Yksion Pro Powerlink

Sattelstütze/Seatpost

BH G7 Pro

Sattel/Saddle

Selle Italia SLR Kit Carbonio

Bemerkungen/Note

-
AERODYNAMIC DISC
The advances developed for the G6 Pro have allowed developing a frame aimed at the professional cyclist that maximises performance and rigidity of the same and sharing identical geometrics as the G6 Pro
R&D G7 DISC
FLUID DYNAMICS AND COMPUTER ANALYSIS
The G7 frame has been developed combining the computer analysis derived from tests performed in wind tunnels and fluid dynamic tests performed by computer.
FLAT MOUNT DISK BRAKES
140 MM
The rear and fork of the frame have been fully redesigned to support the forces and tensions produced by the new anchoring of the disc brakes.
DI2 incorporated into the seatpost
The battery is completely housed and hidden via a patented clip system inside the seatpost. It is discreet, lightweight, insulated from humidity and easy to install.
Geometrie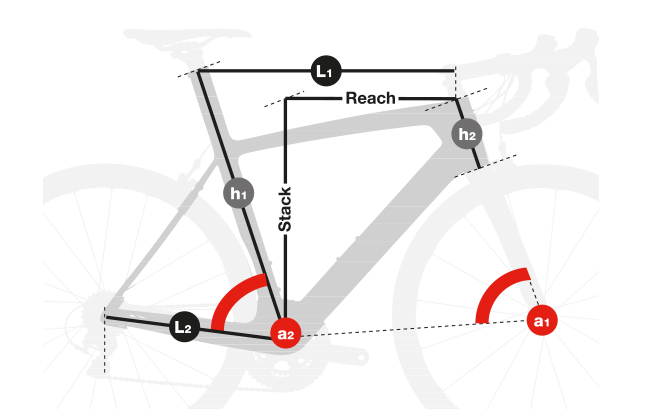 XS
SM
MD
LA
XL

h1

Sitzrohrlänge
530
600
640
680
690

h2

Steuerrohrlänge
110
120
150
185
195,8

l1

Oberrohrlänge (horizontal)
520
543
557
570
583,3

l2

Kettenstreben (mm)
402
402
402
402
402

a1

Steuerrohrwinkel
72
72,5
73
73
73,5

a2

Sitzrohrwinkel
74
72,8
72,5
72,5
72,5
Stack
514
523
549
583
594
Reichweite (Reach)
374
383
384
386
396
Browse these categories as well: Home, Bikes
---